Fire Alarm Systems: Grill The Fire Expert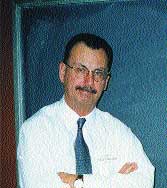 Wiring Lobby Detectors for Elevator Recall
Q: I am trying to retrofit additional elevator recall smoke detectors into an existing fire alarm system. At each floor, I only have three pairs of wire (three circuits) at my disposal and I am wondering if this wiring method (Illustration One) is permitted. Does NFPA 72 [2002] rule 6.8.5.3 prohibit this?
--D. Normous, Alabama






---

Smoke Detection in High Ceiling Locations
New from System Sensor are single-ended, reflected-type Beam Smoke Detectors suited to protecting open areas with high ceilings where other methods of smoke detection are typically difficult to install and maintain.

The Beam Smoke Detectors feature a 4-wire design and are easier to install than dual-ended projected beam detectors because alignment is accomplished via an optical sight and a built-in, two-digit signal strength meter. The detectors, available with an integral sensitivity test module, provide 16 to 328-foot protection coverage in a broad operating temperature range (-22' F to 131' F) to give early warning in environments where temperatures reach extremes.

They have four standard sensitivity selections along with two Acclimate settings that automatically adjust sensitivity using advanced software algorithms to select the optimum level for a specific environment. The Beam Smoke Detectors, available as either conventional or intelligent models, can be equipped with an integral sensitivity test feature that consists of a test filter attached to a servo motor inside the detector optics. Using the remote test station RTS451, the motor is activated and moves the filter in the pathway of the light beam to test detector sensitivity. This integral sensitivity test feature allows the user to meet NFPA 72's annual maintenance and test requirements. For more information, visit www.systemsensor.com

---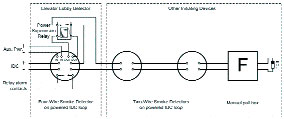 Illustration One

A: Clearly your trouble contacts aren't ?integral,? and this would seem to imply that your method should be allowed. Rule 6.8.5.3 Alarm Signal Initiation, ?Initiating Devices with Integral Trouble Contacts,? states: Automatic fire alarm signal initiation devices that have integral trouble signal contacts shall be connected to the initiating device circuit so that a trouble condition within a device does not impair alarm transmission from any other initiating device. Exception: Where the trouble condition is caused by electrical disconnection of the device or by removing the initiating device from its plug-in base.

However, there are a couple of better wiring methods using those same existing six conductors you may want to consider. If four-wire, relay-based smoke detectors are used, they must be powered separately and individually. So, you should install the EOL power-supervision relay at the recall detector. That way, if another detector on that zone is in alarm, the smoke detector will still perform its required recall duties per 6.15.3.4 (3-9.3.2 in the 1999 edition of NFPA 72).




---
www.dsc.com
---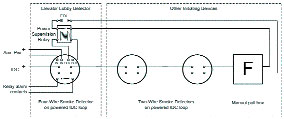 Illustration Two

---

Computer Graphics Interface Package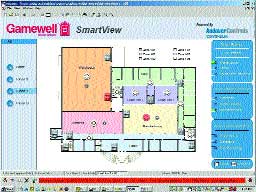 www.gamewell.com
---

Illustration Three
---
Six Zone Control Communicator
www.silentknight.com
---
Greg Kessinger, SET, CFPS, president of an alarm installing company since 1981, teaches NICET training classes to fire alarm system designers and installers and continuing education seminars for Ohio's fire alarm inspectors. You can reach Greg Kessinger at 888-910-2272; e-mail:
This content continues onto the next page...