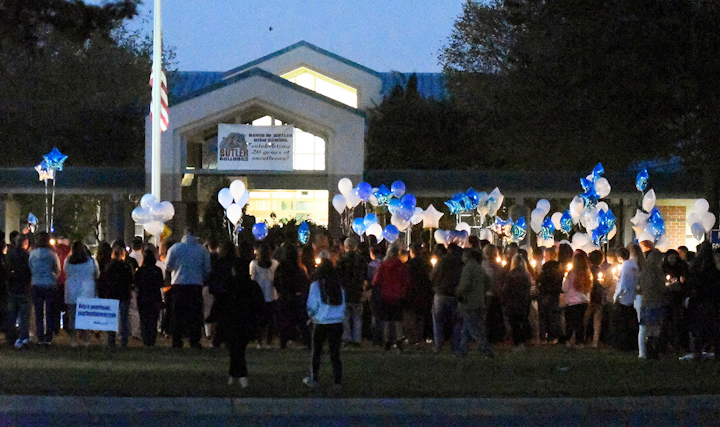 (David T. Foster III/Charlotte Observer/TNS)
After the fatal shooting of a student at Butler High School in 2018, Charlotte-Mecklenburg Schools' leaders assured the public that a new crisis alert system would make children safer.
But they didn't reveal one important detail: The system didn't work.
Over the last year, CMS has installed technology in more than two dozen schools intended to allow employees to trigger an alarm by pressing a button on a card they carry with their ID badges in case of a school shooting or another emergency.
The district has touted the technology from Georgia-based Centegix in press conferences, meetings and public statements even though administrators have known for months that the system often did not operate properly at schools where it was installed.
Former Superintendent Clayton Wilcox pushed for the district to get a crisis alert system as part of a new security plan unveiled after a Florida school shooting in 2017 left 17 people dead.
On Friday, following questions from The Charlotte Observer, Superintendent Earnest Winston held a press conference and said the district would give Centegix 30 days to fix the system.
Winston said the district had been working with Centegix staff to fix the system's problems, but that they had not been able to find a solution.
"We had a system that did not work well all the time and did not work at all some of the time," Winston said. "This is not acceptable. Student safety is too important for us to have poor performance in any way on any platform."
The Observer submitted written questions to Centegix at the company's request earlier this week. Centegix has not responded to those questions.
On Friday, the company issued a statement, saying that it had installed equipment in schools requested by the district through spring 2019.
Centegix said it is continuing to partner with the school district as CMS works to complete testing and training for district personnel.
"We look forward to continuing to work with CMS to achieve our shared goals of increasing safety for students and staff," the company said.
Winston's comments mark a departure from the district's previous public statements about the crisis alert system.
After a school shooting in Colorado left one student dead, CMS issued a press release highlighting its own security measures. The release said a crisis alert system helps the district respond to emergencies faster.
Mecklenburg County commissioners voted in 2018 — before the Butler High shooting — to provide CMS more than $9 million to bolster school security. A portion of the money went to pay for the Centegix system, according to county records.
Commissioner Pat Cotham said if CMS officials have been aware of problems, they should have notified the public immediately.
"People accept a problem, but they don't accept being lied to," Cotham said. "The truth will set you free."
Deal raises questions about oversight
Consultants with expertise in school finance and education technology said the agreement CMS made with Centegix raises questions about whether inadequate oversight led to wasted taxpayer money.
The Observer reviewed hundreds of pages of CMS documents obtained through public record requests, including emails, court records, purchase agreements, phone logs and calendars. Reporters interviewed eight current and former district officials and school vendors, including people with direct knowledge about bidding for the crisis alert system.
CMS administrators agreed to buy at least $1.75 million worth of equipment from the company through purchase orders, which often don't require approval from the full nine-member school board.
Two school-finance experts, who have worked as consultants to districts around the country, said it is highly unusual for a school system to spend such a significant sum of money without a contract or school board approval.
They said a contract could give CMS more legal protection in case the equipment is faulty or the company doesn't perform tasks it agreed to complete.
"Not having a contract for something that large is something that is simply not done," said Michael Griffith, a school-finance consultant in Colorado. "They could just walk away from the job tomorrow without a contract."
School board Chair Elyse Dashew refused a request for an interview. Former school board Chair Mary McCray, who retired in December, did not return phone calls seeking comment.
Phone logs and a calendar show that Wilcox and the founder of Centegix, Daniel Dooley, made phone calls to each other or scheduled appointments more than a dozen times around the time CMS was considering the company's bid or its services.
After two years on the job, Wilcox resigned in August without offering any public explanation. Since then, current and former employees have alleged that Wilcox helped a company that employed his son secure a deal with the district and that he sought to become CEO of another tech company after he successfully lobbied CMS to pay to use its software.
Wilcox did not return phone calls seeking comment.
"This project is at a very critical stage, high schools are complete but they are not operational," Amy Shire, a senior purchasing agent for CMS, wrote in a May 28, 2019, email to other administrators. "If CMS continues to move forward with this vendor, what were issues earlier in the project now appear to be risks."
In an email dated June 9, the district's Executive Director of Procurement Greg Bame wrote that officials were planning to meet to discuss a list of concerns about awarding a second bid to Centegix that would expand the number of schools.
"System functionality," Bame wrote. "Are any of the systems previously purchased operational?"
Wilcox and Dooley
Wilcox appeared to build a relationship with Dooley before CMS reached the deal with the company.
Less than a month after he took over as head of CMS in July 2017, Wilcox scheduled a dinner with Dooley and a person named Suzanne, according to Wilcox's calendar. Dooley's wife's name is Suzanne.
Wilcox's wife, Julie, is Facebook friends with Dooley's wife.
Dooley and Wilcox had three appointments to see each other in 2018.
On Sept. 25, 2018, they were scheduled to meet for three hours at CMS headquarters, according to Wilcox's calendar. That was one week after the deadline to submit bids for the crisis alert system.
CMS awarded Centegix the winning bid on Nov. 13, 2018, records show.
It was not immediately known what Wilcox and Dooley planned to discuss. Records do not say why they were meeting.
The invitation for bids that CMS issued for the crisis alert system directed vendors to send any questions to Shire, the senior purchasing agent for the district.
Norma Houston, a professor with the UNC-Chapel Hill School of Government, says state law does not prohibit local government officials from speaking with potential bidders, but forbids them from disclosing information about the bidding process that isn't shared publicly.
Marguerite Roza, a professor at Georgetown University who studies school finance, said many school districts across the nation enforce a silent period in which employees cannot contact businesses making bids.
Companies often know the rules and follow them closely, Roza said.
She said if she were a CMS school board member, she would call for an outside audit to ensure money was being spent properly.
"You would want to wash your hands of this," Roza said. "If it comes back and shows nothing is wrong, then you say we made sure."
Statement from Centegix
Centegix issued the following statement in response to CMS Superintendent Earnest Winston's press conference:
After receiving the initial purchase order from CMS for one school in November 2018, we began to install our CrisisAlert platform in that single test location in early 2019. An important part of the testing process is to determine appropriate levels of coverage and if district protocols are properly aligned to the platform to ensure functionality.
In this case, the district protocols needed to be mapped to the platform, and there were certain changes that needed to be made before we could continue with our deployment process. Those changes have since been made, and we started to deploy sites in summer 2019.
Our CrisisAlert Solution has been installed in each of the 25 CMS schools that were part of the subsequent purchase orders received through April 2019. The sites are tested rigorously by the district and we work together with them on the final adjustments and configurations that they request.
Sites have been launched and are currently in a live, pilot mode. The phased deployment will continue as CMS completes the site-specific testing and the user onboarding process, which includes training for district personnel.
We look forward to continuing to work with CMS to achieve our shared goals of increasing safety for students and staff.
———
©2020 The Charlotte Observer (Charlotte, N.C.)
Visit The Charlotte Observer (Charlotte, N.C.) at www.charlotteobserver.com
Distributed by Tribune Content Agency, LLC.