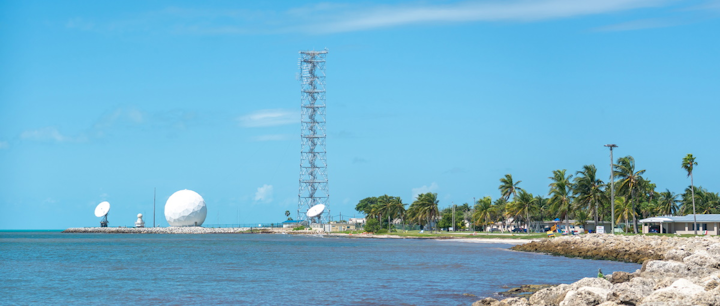 (Image courtesy bigstockphoto.com)
Key West visitors always flock to the town's favorite tourist spots — Mallory Square, Duval Street, Ernest Hemingway's home, and the Southernmost Point Buoy — to snap photos and record memories.
But apparently, not students visiting from China. For some reason, they seem to like taking pictures of military facilities in Key West.
The latest — a pair of Chinese nationals attending the University of Michigan — were arrested over the weekend and appeared in federal court in Key West on Monday on a charge of entering a U.S. Naval property for the purpose of photographing defense installations.
Since the fall of 2018, a total of four Chinese nationals have been arrested on charges of shooting pictures of military facilities in Key West, drawing the sharp interest of U.S. counterintelligence investigators who have been probing suspected Beijing-led spying activities in South Florida, including visitors to President Donald Trump's private club, Mar-a-Lago, in Palm Beach.
On Saturday, Yuhao Wang and Jielun Zhang, both 24, were arrested after they approached the guard station at Sigsbee Annex in the Naval Air Station, were told to turn around and instead drove onto the restricted property at 8:30 a.m. After a half hour, U.S. Navy Security Forces located the students in their blue Hyundai car and found they were carrying cellphones and a Nikon camera.
"U.S. Navy Security Forces obtained consent to look at the devices and observed photographs taken on the Sigsbee Annex property, including U.S. military structures on Fleming Key," according to an FBI complaint affidavit.
After they were stopped, both acknowledged they were told by a guard at the Sigsbee Annex gate to make a U-turn and leave the area. Instead, Wang admitted that they drove onto the U.S. Naval property and parked their car. Wang voluntarily showed the agents photos that he took with his cellphone, the affidavit says.
Zhang gave a similar statement, indicating that he provided his Michigan driver's license to the guard. He also voluntarily showed the agents photos that he took with his camera and videos with his cellphone, according to the affidavit.
The Sigsbee Annex is located on Naval property near the entrance to Key West in a residential neighborhood called Sigsbee Park.
At their first appearances in Key West federal court on Monday, the two defendants asked Magistrate Judge Lurana Snow to appoint lawyers to represent them.
"I don't want to use my money to pay for a private attorney," Wang said through a Mandarin interpreter. "I would prefer you order a public defender for me."
Snow granted a public defender for Wang and a private attorney for Zhang.
But since both said they had about $9,000 each in a U.S. bank account, the judge required them to contribute $7,500 each to the cost of their defense.
Snow also set their detention hearing for Friday in Key West federal court.
In a similar case, another Chinese student, Lyuyou Liao, was arrested the day after Christmas on a charge of entering the Truman Annex at the Naval Air Station for the purpose of photographing defense installations. In Liao's case, several witnesses told police they watched Liao trespass onto the military property and warned him not to go there, according to another criminal affidavit. He was later stopped by federal agents who found photos on his cellphone of military facilities.
At a detention hearing before Judge Snow on Monday, prosecutors described Liao as a 27-year-old college student in St. Louis, Missouri, who had a full scholarship from the Chinese government.
Federal prosecutor Jonathan Kobrinski asked Snow to detain Liao until his case is completed, saying he is a flight risk to China. Snow agreed, ordering his detention.
Liao's defense attorney, however, argued that he was simply on vacation taking snapshots of Key West and should be released.
"The evidence here is very minimal," Miami attorney Daniel Rashbaum told the judge. "It sounds like a tourist taking some pictures."
Snow disagreed.
"If you believe that, I've got a bridge to sell you in Brooklyn," Snow said. "I doubt there will be a slew of sunrise pictures" on the phone or camera.
Actually, Liao took lots of tourist-style photos with his cellphone, including some from Orlando and Miami as well as others from Key West sights, said Special Agent Michael Miller of the Naval Criminal Investigations Service. But Liao had also taken at least one photo of the military facility at the Truman Annex Naval base, Miller said.
"I got to the picture of the [naval] base and I stopped right there," Miller said, explaining he had no search warrant at the time he stopped Liao. After a search warrant was obtained, investigators found more photos of the military facility on his cellphone.
The fourth Chinese national arrested at the Naval Air Station in Key West was Zhao Qianli in September of 2018. Qianli claimed to be a music student from China and got caught by the Key West police for trespassing onto the high-security Naval Air Station. He later told federal authorities that he lost his way on the tourist trail and did not realize it was a military base.
Investigators found photos and videos on Qianli's cellphone as well as on his digital camera that he had taken of government buildings and a Defense Department antenna field on the military base.
Qianli, 20, pleaded guilty last February to one count of photographing defense installations at the Key West military facility and was sentenced to one year in prison by U.S. District Judge K. Michael Moore. The judge gave him the maximum sentence, which was higher than the sentencing guidelines of between zero and six months. The U.S. Attorney's Office sought nine months in prison.
In March of last year, a Chinese woman was arrested at President Donald Trump's private club in Palm Beach after she bluffed her way into Mar-a-Lago to attend a purported "United Nations friendship" event that she knew had been canceled before she left China.
Yujing Zhang, 33, was charged with trespassing in a restricted area and lying to a federal agent. In September, Zhang was convicted at trial and sentenced in November to eights months in prison — or the time she had been in custody since her arrest — by U.S. District Judge Roy Altman.
Another Chinese woman, Lu Jing, 56, was arrested in December after she had been reported trespassing and taking pictures at Mar-a-Lago.
———
©2020 the Florida Keys Keynoter (Marathon, Fla.)
Visit the Florida Keys Keynoter (Marathon, Fla.) at www.keysnet.com
Distributed by Tribune Content Agency, LLC.