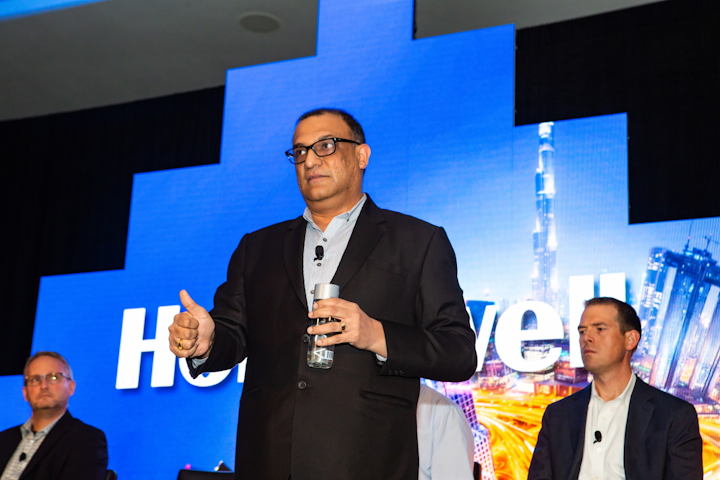 (Image courtesy Honeywell)
If there's one constant you can count on in the security industry it is change. Nearly every manufacturer and service provider in the market has been impacted in some way over the past decade by consolidation or technology evolution. Even the industry's household names have not been immune to these changes.
Among these include Honeywell, a manufacturing stalwart in physical security whose solutions run the full gamut of industry product categories. Last year, the company spun off security products distributor ADI and its residential security business into a new independent company that is known today as Resideo.
The spin-off was a significant shift for the company which has long been viewed as a leader in both commercial and residential security products. However, the move also meant that Honeywell could narrow its focus to developing products exclusively for the commercial segment rather than having to divide its resources among the two markets that have vastly different requirements.
SecurityInfoWatch.com (SIW) recently sat down with Vikas Chadha, Vice President for Commercial Security at Honeywell, following the company's Building for the Future event in Miami that brought together more than 400 of the company's customers and partners, to discuss the impact that the spin-off has had on the company, what their product roadmap looks like heading into 2020 and other industry trends.
SIW: How has the spin-off of Resideo impacted the company?
Chadha: I personally feel that it's a win-win situation for both the businesses… because of one reason: It gives both of us focus. They have got the focus of concentrating on the residential market and coming up with products that can have synergies with each other, and their partner set is largely dealers who work in the residential space. On the contrary, we've got a partner set which is largely operating with commercial buildings, critical infrastructure, and multi-site customers and now we can focus more on them, listen to them and develop products for them. So, I think it has been a win-win decision and I would suggest that in the long run, both Resideo as well as Honeywell Commercial Security will benefit from it more and more.
SIW: What do you see as being some of the biggest trends taking place right now in the market relative to technology and the business of the industry itself?
Chadha: From a business and the industry perspective, there is far better knowledge and awareness of regulations, especially from the companies that are in regulated verticals, such as pharmaceuticals, banking, etc. They are all asking questions about how they can harden their systems and become more foolproof. Also, we are seeing a lot of urbanization happening. Megacities and smart cities are getting created all over the world, and security products are kind of the backbone of some of the new products that are getting deployed as part of these smart city applications. Of course, one of the big trends is in IoT as well, which is critical as more data is being generated and buildings are talking to us more and more.
Coming back to technology and how the industry endeavors to meet some of the challenges and opportunities presented by these trends, I would say we need to leverage the smart edge. The edge is getting much smarter as we go and becoming far more capable, whether it's a reader on the access control system or a camera. The edge can do more today than it was able to do previously. The second trend that we see is the system of systems, or more integration happening between disparate systems. More customers are coming to us and saying, "Ok, we have got so many different systems – video, access, intrusion, etc. – could you please help us integrate these systems into one graphic user interface which the operators see?" We've done a lot of work on this, and we've offered some very interesting solutions to many of our customers.
SIW: What are some of the biggest challenges facing your integrator partners right now?
Chadha: There was a lot of discussion at Building for the Future about how globalization is impacting our system integrators and partners. Because many of their customers have got multiple sites and they are saying, "Hey, I want to deal with you, and I don't want to deal with multiple sets of people so that I've got different systems in different countries." Large, multi-site customers are looking for common solutions so that they have better usability. I also saw a lot of discussion around cloud. Our partners have conventionally sold standard products and solutions. Now, when it comes to a customer who's asking for a cloud-based solution, they want to know how do they price it and how do they appropriately support it?
SIW: Likewise, what are some of the main issues you see facing your end user customers in the market?
Chadha: One of the points that is often discussed with these customers is migration. You know, many of them are old, legacy companies. They have done some acquisitions as well, and they have disparate systems. It's very simple to say that you're going to replace systems completely, but how do you do a seamless migration where you protect their existing data? You do it in a very phased and programmed approach.
SIW: What can people expect to see from Honeywell in terms of your product roadmap moving forward?
Chadha: First and the most important is our approach towards our products is around the verticals and the type of customers that we serve. For small and medium-sized enterprises, we are coming up with an array of cloud-based offerings. We already have a cloud-based MAXPRO video offering and we're going to launch very shortly a MAXPRO cloud-based access control offering and an intrusion offering. This will allow our customers to go and deploy an installation, which can be remotely managed, remotely programmed, and is state of the art.
The second kind of offering that we will have is going to be for our large enterprise customers. Our large enterprise customers are looking for far greater levels of integration between access control, video, and intrusion, and far more features. That is an offering that we call Intelligent Command, which is a suite of products that we're going to launch. It provides the operator a completely unique experience. They can drag and drop cameras on a particular screen, and it will have standard operating procedures listed for them to follow in the event of an alarm.
About the Author:
Joel Griffin is the Editor of SecurityInfoWatch.com and a veteran security journalist. You can reach him at joel@securityinfowatch.com.