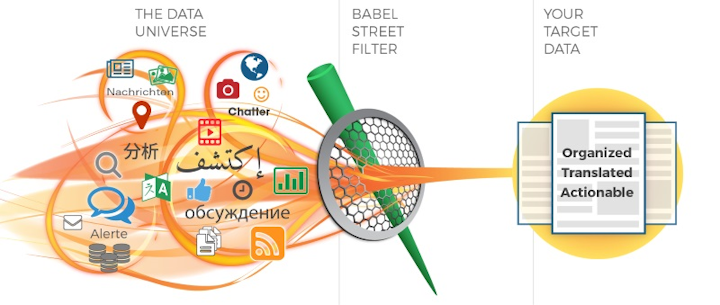 (Graphic courtesy Babel Street)
Given the numerous threats that organizations in both the public and private sectors face today, security professionals find themselves trying to gather, aggregate and analyze data from every resource available to them to try and stay one-step ahead of the curve. However, while the number of ways in which people communicate only seems to expand by the day, the tools available to help end-users scour the internet and social media for potential risks are few.
While trying to collect information about a particular entity to help it mitigate risk may seem like an impossible task, companies and government agencies alike have been involved in social media monitoring and related activities to bolster situational awareness for years. And the solutions these organizations have at their disposal are also becoming more advanced.
One company offering such a solution is Babel Street, which is showing its flagship product, Babel X, at ASIS 2017 this week in Dallas. Babel X is a multi-lingual, social media and web monitoring platform designed to help security professionals analyze and make sense of data that is relevant to them and the organizations they work for regardless of where it is generated in the world.
 "Everything goes back to what our core mission is which is to provide information unbound by source and language in one location and do it persistently," says Babel Street CEO Jeff Chapman. "That distinction is important because, for instance, if you wanted to use a search engine you're constrained because search engines are mono-linguistic and their sources are somewhat limited or maybe altered in the way it is presented to you based on advertising dollars."
According to Chapman, the company has both commercial and government clients all over the globe who are looking for information that pertains to them. As long as that information is available and can be accessed permissibly, Chapman says they will provide it to their customers upon their request.
"One of the things you can do with Babel that really separates us is you can compile a search – as wide or as narrow as you want – and the system will go and collect information based on the requirements you put in it," Chapman explains. "We wouldn't expect the chief security officer or whoever else is looking at this information to able to speak Bengali, Arabic or Chinese, but they can type in English in our platform what they care about and we will go find it in other languages and bring it back for them. And it is easily organized and sliced-and-diced from there, but at a high level, that is how it works."      
Chapman is also quick to point out that Babel X is not just a social media monitoring platform as they have a rather expansive data reach that goes well-beyond what people are saying on Facebook or Twitter. "We're also bringing the entirety of the Dark Web and we don't just do that ourselves, we go buy content from Dark Web companies and re-host it on our service for our clients," he says. "We have 40-plus social media outlets, millions of blogs and forums, as well as all of our Dark Web content and third-party data that we're bringing on the system for clients."
Babel Street can even analyze a company's own data to look for insider threats and aid in cybersecurity investigations. "For instance, if you have a cyber investigation going on and you happen to have a little piece of a nugget (of information), such as an IP address or anything else, you can put that in our system and we will tell you everything we know about it," Chapman adds.  
While he can't divulge any of his specific customers by name, Chapman says many of them have used Babel X in recent weeks to aid in search and rescue efforts and even combat fraud following Hurricanes Harvey and Irma. "It's everything from people saying, 'I need help" or 'I need shelter' to 'I see a potential issue about to happen' or even fraudulent offers of credit from people trying to scam storm victims," he explains.  
Babel Street has also helped secure some of the world's premiere sporting events, including the Super Bowl and World Series. Just last week, the company announced a new partnership with the National Center for Spectator Sports Safety and Security (NCS4) to provide training to security professionals who work in the event security space.  
Though it may seem like searching for a needle in a haystack when it comes to ascertaining information that could impact an organization's security, Chapman says they teach their customers how to find the data they need.
"We teach them best practices on how to find what they're looking for, whether they want to cast a big net or get very, very  granular and get one thing, and so the system is nimble enough to allow them to easily put different criteria in – a date, language, word, series of words, or even an expression," he says. "It just depends on what the end-user is trying to do. If you're trying to figure out how people like a product then you want to cast a net as wide as possible. If you want to figure out who is this person that is trying to do harm to my organization, then you need to be very specific."
Ultimately, Chapman says the goal of Babel Street is not to replace security analysts or corporate investigators but to make their jobs easier and more efficient. "Back in the old days if you positively wanted to find a book you went to the Library of Congress," he says. "We're sort of the Library of Congress for data."
About the Author: 
Joel Griffin is the Editor-in-Chief of SecurityInfoWatch.com and a veteran security journalist. You can reach him at jgriffin@southcomm.com.