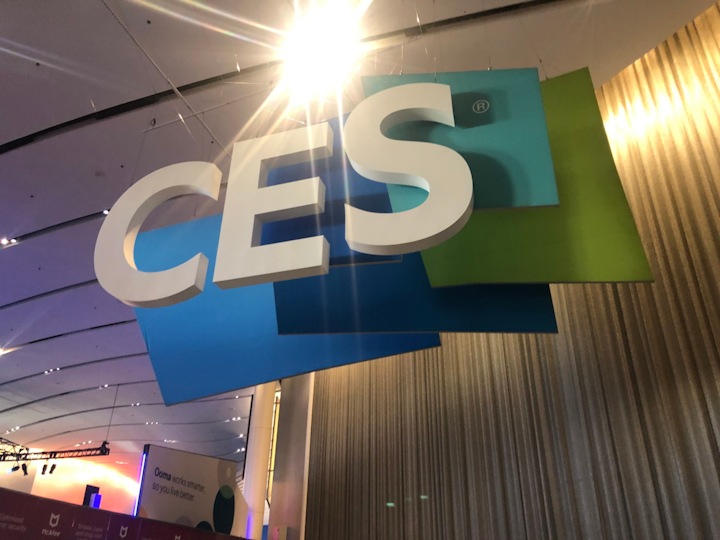 (Image courtesy Paul Rothman)
As I descended on Las Vegas for CES for the first time in five years, I was excited to see some innovation in the smart home and residential security areas as I roamed the aisles of the Sands Convention Center - familiar to most industry folks, in fact, it felt like deja vu from my many ISC West trips over the years.
With the surroundings at least familiar, here are a few visits and technology trends that caught my eye: 
Locks Are All the Rage
In the smart home category, to my eye, it felt like access control - believe it or not - was the dominant product on the floor. It is usually one of the first products you run into in a smart home, and I ran into no less than 15 companies displaying smart locksets, with the majority featuring some form of biometric authentication. 
Many of the companies showcasing these products are based in Europe or Asia, so they may be unfamiliar to the seasoned North American security integrator; however, some of these traditional European models are making their way across the Atlantic. 
One such brand - Danalock - made its North American debut at CES 2020 in the Salto Systems kiosk within the Z-Wave Alliance pavilion. Salto's Colin Dupree said that the Danalock products also marks the beginning of Salto's foray into the North American residential access control market, whereas Salto has focused primarily on enterprise and commercial applications in the past.
I also caught up with the team at Kwikset, whose new Halo Smart Touch lock was generating a lot of buzz. The product's dominant feature is a fingerprint reader that can store up to 100 fingerprints. A company spokesperson told me that all the fingerprints are stored on the lock itself as opposed to the cloud, to keep the data secure. 
Another interesting take came from SecuRam - a traditional safe lock manufacturer - which showcased its new fingerprint smart deadbolt. The interesting part was that it included fingerprint, keypad and traditional key access in the same device. The company also displayed some multi-family and commercial locks, but according to the sales rep I spoke with, most of the product have found a foothold in Europe and are just now emerging in the North American market. 
Other companies showcasing lock systems that I saw on the floor included Yale, Schlage, Hugolo, Alfred and more. 
In the commercial access control market, I caught up with Seco-Larm, which was showing off its Enforcer Bluetooth access control keypad with corresponding app. Alex Aaron demoed the app for me, which should enable end-users to easily program access control keypads. He told me to expect to see this product much more prominently in a couple months at ISC West. 
Video Doorbells
Everybody's got a video doorbell these days, so to claim to be innovative, companies really need to think out of the box in the race to keep up with the Rings of the world. Just walking the floor, you can be inundated with these devices; that said, two of them caught my eye - although in both cases, it seemed like a bit too much technology for the form. 
One company showed me a 4K doorbell camera, whose design looked industrial enough to be intended for commercial buildings (perhaps) or multi-tenant housing, where video intercoms tend to rule the day. 
The other was a company called Toucan, which displayed a 180-degree pan/tilt video doorbell. I chatted with one of the company executives, who demoed the product for me. It definitely solves the video doorbell problem of not being able to see in the periphery - especially if someone is too tall for the camera range or a package is lying on the ground. 
Ring's Gradual Shift to Professional
In my tour of the Ring booth, I was struck by a concerted effort by the company to begin offering professionally installed solutions. The company's access control product - as we reported on earlier this week - is primarily for residential gates; however, two company spokespeople stressed to me that it will need to be installed professionally. 
This concept goes hand-in-hand with the new Ring X Line, which, according to the marketing speak on the display, is "designed with the professional installer in mind." The question for our industry, of course, is who will that professional installer actually be. The PR rep I spoke with gave me an example of the Home Depot installation team, which might be a disappointment to some reading this; however, it is certainly a possibility that Ring starts recruiting installers and dealers in our industry.
Editor's Note: Ring contacted me today to clarify this with the statement: "Ring X line of products will be available through Ring's network of 5k independent installers in North America, and will not be available online or on the shelves in big box retailers."         
More Smart Home Tech
I had a chance to chat with the folks from Alarm.com and Building36 at the show about its new smart water valve and meter, which installs directly onto a home water line (as opposed to leak sensing units under a kitchen sink, for example). Product manager Rob Picardi explained that the unit's sensitivity is one of its greatest assets, and he assured me that the unit would absolutely alert me that our kitchen sink faucet has had a slow leak for the past three weeks - no joke, my wife is begging me to call a plumber!
The water valve must be installed by a plumber, which Picardi says helps security integrators develop new networking relationships with an important player in the smart home service ecosystem.  
I also toured the Schneider Electric booth, which was showcasing its new Square D Connected Home Suite. I spoke with EVP Manish Pant, who explained to me how something like a connected electrical panel in the home could be the gateway to smart home adoption using the electrical system as its backbone. An interesting concept, to say the least. 
Startups Galore
I managed to weave my way briefly around the Eureka Park area, which features small companies, startups, kickstarter-backed companies, etc. It is located on the lower floor of the Sands (where registration/badge pickup usually is for ISC West). The place was a madhouse - wall-to-wall people and it isn't an exaggeration. 
I saw a few interesting technologies, but one that stood out came from Camect Inc., which makes an NVR with built in analytics that help filter out false positive alarm events. Designed for the residential market, co-founder Arup Mukherjee explained that the device works with all IP cameras and that the company recently wrapped up a successful indiegogo campaign. He also mentioned that the product was tested and reviewed by the folks at IPVM. 
Look for more from my CES experience as I shift my focus to the gigantic Las Vegas Convention Center on Thursday!
Paul Rothman is Editor-in-Chief of Security Business magazine (www.securitybusinessmag.com). Access all of the CES news at www.securityinfowatch.com/ces.