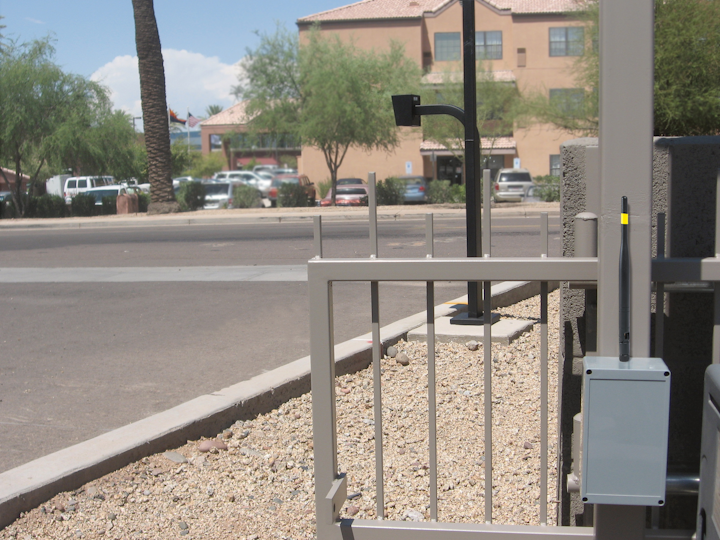 Photo: DoorKing
In today's access control market, there are often applications where the use of a wireless connection for an access device is desired or even required. Thanks to its ability to overcome architectural limitations and its flexibility, wireless access control can offer several advantages over hard wired or ethernet connections.
The most common wireless connection methods use either 900MHz or 2.4GHz signals. Here's a closer look at how each of them work, and which one is suitable for certain applications.  
The Advantages of Wireless
Some access point locations – such as those with drywall or wood frames – are easy to wire; however, certain types of construction are much harder to run wiring. Installers may, at times, run into difficulties in working with historical buildings, glass doors and atriums; in fact, these typically difficult-to-wire openings are often cost-prohibitive to hardwire. Wireless also enables integrators to add locations that may have been deemed "unreachable" using standard hard-wired or wired ethernet structuring.
Depending on site locations and conditions, it may take several hours to run the necessary wiring from the control panel to remote access point locations; a wireless solution, on the other hand, may take much less time to set up. If there are a high number of access points throughout a property, labor costs can quickly escalate; thus, wireless may provide a more cost-competitive option.
Wireless is also very flexible. It can eliminate trenching, conduit and cable runs to remote access locations; avoid cutting across hardscape such as parking lots and roadways; and simplify adding remote locations to existing access control systems.
900 MHz vs. 2.4 GHz
The most common wireless connection methods use either 900MHz (lower frequency) or 2.4 GHz (higher frequency) signals. When comparing them, here are the key differences that must be considered before choosing one for a particular application:
1. Lower frequency devices can have better range and provide better obstacle penetration than higher frequency devices.
2. Lower frequency devices can push more power than higher frequency devices.
3. Higher frequency devices offer more channels and can operate in higher density to adjacent devices.
Wireless RF signals are a bit like audio frequencies – similar to a "sub-woofer" on a home theater, lower-frequency RF systems can use greater power and can penetrate walls and other obstacles fairly easily; whereas higher frequencies can use less power, but will reflect off of dense surfaces.
The 900 MHz radio system is at a lower frequency and will penetrate surfaces more easily; while 2.4 GHz systems are more reflective and tend to be affected more by buildings, foliage or moisture that can attenuate the signal. In addition, some large venues are not suitable for the 2.4 RF signal due to potential destructive reflective signals.
Installers also use 900 MHz when signal range may be problematic, since a 900 MHz wireless connection typically has a longer range than a 2.4GHz Wi-Fi connection.
While both 2.4 GHz and 900 MHz systems are available on the market, many manufacturers are recommending 900 MHz for short- to medium-range wireless networks in access control applications. These systems provide a nice combination of better penetration characteristics with lower signal loss and less chance of interference from nearby Wi-Fi systems.
Interference
In any wireless installation, it is important to find out what other wireless traffic may be present at the site to avoid potential interference. 2.4 GHz is widely used for Wi-Fi networks and can generate a lot of traffic in densely populated facilities.
While it is true that there may be potential 900 MHz frequencies causing interference, these are less common than 2.4 GHz. This interference can often be eliminated by using devices with multiple channel selections and wireless encryption to secure a specific wireless network.
When considering wireless, it is always a good idea to perform some testing at the actual site. Test and check from where equipment and antennas will be located, and measure signal strength between the controller location and the actual access point locations. See what type of signal attenuation loss may be affecting these locations, or if interference is coming from nearby devices competing on the same frequencies or channels.
Line of Sight applies to all forms of wireless transmissions; however, not all "obstructions" are created equally. Here are two of the most common:
Trees and obstructions. Trees with leaves may provide a measurable loss in signal attenuation; however, 900 MHz systems operate on a lower frequency range that enables it easily pass through dense materials such as water, animals, people and a tree line between access device locations. When testing at a jobsite, remember to look at trees and how dense the leaf structure is. If the installation is being performed in the fall or winter, consider that trees may be much denser when the leaves return come spring and summer. Antenna placement should take this into consideration.
Atmospheric conditions: The presence of moisture can negatively affect an RF signal. Fog and rain generate a loss of signal attenuation that affects 2.4 GHz signals significantly more than 900 MHz signals.
Ron Miller is Training Manager for DoorKing. To request more info about the company, visit www.securityinfowatch.com/10213482.