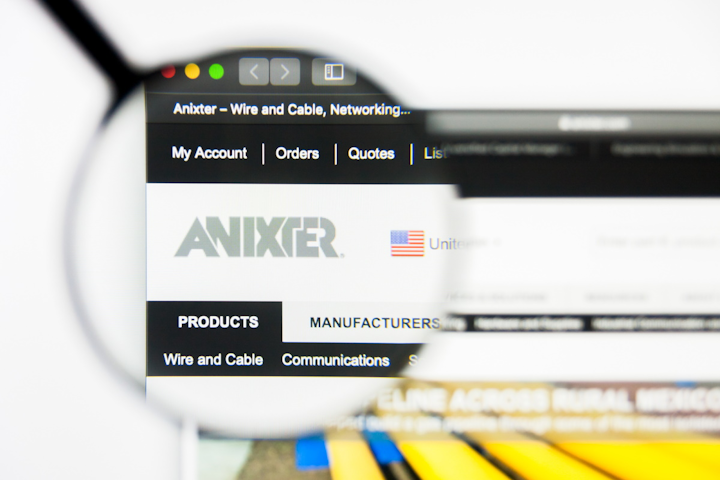 (Image courtesy bigstockphoto.com)
WESCO's persistence in trying to acquire rival distributor Anixter appears to have finally paid dividends as Anixter's board announced via a statement on Thursday that WESCO's revised offer of the company for $100 per share in cash and stock now represents a "Superior Company Proposal" over that of private equity firm Clayton, Dubilier & Rice (CD&R).
CD&R and WESCO have been engaged in ongoing bidding war for the right to acquire Anixter for more than a month. Last week, Anixter announced that it had agreed to a "Second Amended Merger Agreement" with CD&R that would have paid is stockholders $93.50 per share in cash. WESCO quickly countered, offering $97 per share in cash in stock before once again increasing the offer to $100 per share.  
Under the terms of WESCO's revised offer, WESCO would acquire Anixter for nominal consideration of $100.00 per share, reflecting an enterprise value of approximately $4.5 billion including net debt. The proposed consideration consists of $70.00 per share in cash, 0.2397 shares of WESCO common stock, and $15.89 per share in face amount of WESCO perpetual preferred stock.
The cash portion of the merger consideration will be increased by up to $2.82 to the extent the value of the WESCO common stock consideration, calculated using a volume weighted average before closing, declines below $14.11 per share, providing Anixter stockholders with 20% down-side protection based on WESCO's closing price on January 2, 2020. Anixter stockholders would receive the benefit of any increase in the value of the WESCO common stock consideration above $14.11 per share. Based on the closing price on January 8, 2020, the total consideration would be $100.16.
WESCO has told Anixter that the perpetual preferred stock is expected to be listed on the New York Stock Exchange, will be non-callable for five years and will pay dividends at a fixed rate subject to reset every five years. WESCO has also informed the Company that the proposed acquisition of Anixter will not require the approval of WESCO's stockholders.
"After careful review and consideration and consultation with our financial and legal advisers, the Board of Anixter has determined that the current WESCO offer is superior to the existing CD&R agreement," said Sam Zell, chairman of Anixter.
"WESCO's proposal to acquire Anixter provides significant immediate value to Anixter's stockholders along with the opportunity for both companies' stockholders to benefit in the upside of this transformative combination," said John J. Engel, WESCO's Chairman, President and CEO. "We are pleased that the Anixter board has determined that our latest proposal represents a Superior Company Proposal and look forward to executing a merger agreement."
Anixter has notified CD&R of the Anixter Board's determination and, pursuant to the CD&R Merger Agreement, CD&R has the option for the next five business days to negotiate an amendment of that agreement so that WESCO's offer will no longer be a "Superior Company Proposal."
Under the CD&R Merger Agreement, Anixter is required to pay a $100 million termination fee to CD&R if the Anixter Board terminates the CD&R Merger Agreement in order to enter into an agreement with WESCO. WESCO has agreed to pay the termination fee on Anixter's behalf in such event.
At this time, Anixter remains subject to the CD&R Merger Agreement and the Anixter Board has not changed its recommendation in support of the CD&R transaction or the existing CD&R Merger Agreement, or its recommendation that Anixter's stockholders adopt the CD&R Merger Agreement. There can be no assurances that a transaction with WESCO will result from WESCO's offer, or that any other transaction will be consummated. There can be no assurance that CD&R will seek to negotiate with Anixter or will make a revised offer.