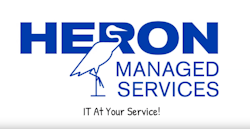 LEXINGTON, KY. (PRWEB) DECEMBER 11, 2019 - Established business and home security provider Bates Security which also owns Sonitrol of Lexington has expanded into IT infrastructure and managed services with the launch of Heron Managed Services to meet the growing needs of their clients. Heron Co-Owner Bryan Bates states, "This will be a full-service company from day one where we will provide the level of service and support that our security customers have come to expect. This is a natural extension of what we do at Bates and Sonitrol."
After many years of consulting with business owners on security, video surveillance, access control, and fire solutions, Jeremy and Bryan Bates realized there was a need for network security and IT managed services solutions so they partnered with ICX Managed Services to fulfill this important need, and Heron MSP was born. Jeremy Bates, Co-Owner of Heron MSP said, "As the security industry has evolved, we find ourselves continuously installing our own networks for our services and assisting our customers in solving IT related concerns. This is a natural progression and evolution of our business model to better serve our customers."
In launching Heron MSP, the Bates' team is delivering smart managed IT services with the same concern and care for their clients they have always provided. Through the Bates' foundational business philosophy of caring for the needs of customers, Heron MSP will focus on end-to-end protection from the front door to the back-end of the customer's business infrastructure. Through the same local customer service and friendly attention to detail that Bates' customers have come to expect and enjoy, they now have access to a full suite of IT managed services solutions from the same trusted service provider. "We have developed a successful business model for providing security solutions and supporting our customers which we will also use to deliver successful IT related services to our existing customers," said Bryan Bates, Co-Owner of Heron MSP.
Heron will offer a comprehensive suite of IT solutions, including Service Desk Support, Technology as a Service, Disaster Recovery and Business Continuity, VoIP phone systems, Office 365 Administration, Managed Print Services, and Desktop as a Service.
About Heron Managed Services
Heron Managed Services offers 'IT At Your Service' and was born out of a 30-year legacy of excellence in security solutions. Today, Jeremy and Bryan Bates operate one of the nation's leading security companies, Bates Security, which offers a comprehensive and consultative approach to business and home security. The Bates Security team has now evolved to deliver the same tenacity, consistency, and care to their client's network and IT infrastructure which will make business client's access control, building security, and IT infrastructure much stronger and more comprehensive. The addition of these managed services to customers already using Bates Security solutions provides a broader and wider-reaching overall security solution for business customers large and small. Learn more now at http://www.heronmsp.com.