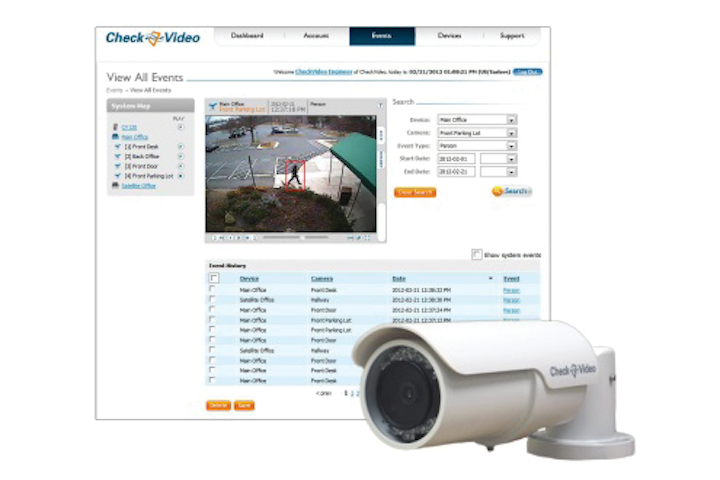 (Image courtesy CheckVideo)
Virginia-based managed security services provider Kastle Systems announced this week that it has acquired CheckVideo, which specializes in the delivery of cloud-based video surveillance and alarm verification solutions.
Kastle Systems Executive Vice President Brian Eckert characterized the acquisition as a win-win for both companies, helping Kastle "accelerate" and offer more services to their own customer base while at the same time helping CheckVideo grow within its network of channel partners.    
"CheckVideo, for all of the reasons that it has enjoyed success historically, we saw as an innovative solution and something that we thought redefined how video was delivered and how it performs," said Eckert. "We worked with CheckVideo prior to the acquisition and have realized some very early and significant success in uptake by our customer base for this solution. We also saw some great synergies and benefits from working to support and grow the model that CheckVideo has long had, working through 250-plus resellers and central stations and partners in the security arena."    
Nik Gagvani, who serves as a vice president at Kastle in charge of the company's video division, said that CheckVideo will retain its brand identity and continue to operate independently. "What's exciting for us with this acquisition is that we can actually benefit from the technology, but at the same time assist with growth in the channel that CheckVideo has established," he said.
Additionally, Gagvani said the acquisition will enable Kastle to offer its customers a comprehensive and integrated suite of managed security services. "This gives us the ability to give them a fully managed, cloud-based video security solution," Gagvani explained. "Separately, we are also looking at convergence. We've been talking about IP video getting more ubiquitous and affordable, which is true today. We've been looking at managed services or managed video-as-a-service, cloud-based offerings and we've been looking at intelligent video enabling all of those and CheckVideo brings a combination of all three."     
According to Eckert, Kastle has been in business since 1972 and is well-known for its managed access control offerings.  However, Eckert said that the company is not a stranger to providing video surveillance solutions and has "invested heavily" in this segment of the security market leading up to this acquisition.
"Everything we've done has prepared us for this day. And we've been dealing in video, this is not our introduction to video today," Eckert said. "We just saw, if you will in CheckVideo, both technology that has struck an incredible balance in terms of what it brings to the table to make it simple and very effective for users in the different markets and an opportunity to support a business model that we feel is a very fast growing segment of the industry and is ready to go from where it is and take off to an entirely different level."
Kastle has customers throughout the U.S., as well as in Australia. Eckert said that they are heavily focused in the commercial real estate market protecting high-rise facilities, as well as other iconic buildings in major cities across the U.S. The company boasts 2,000 properties with 37,000 tenants among their customer rolls.
"We have relationships with those businesses – financial services businesses and law firm businesses – and have, in recent years, been focused on and growing into new vertical markets not least of which is in providing advanced video systems for the recycling and scrap markets and protecting those assets and places that have a lot of theft," Eckert explained. "We monitor, we have four redundant operation centers and manage everything from performing installs and designing systems all the way through responding through UL-certified monitoring centers on any critical alarms for our extended customer base."    
Eckert said that the acquisition has been finalized; however, because both companies are privately owned, financial terms of the deal were not disclosed.